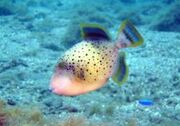 The Yellowmargin Triggerfish is a species of Triggerfish. They originate in coastal tropical waters and reefs of the Indo-Pacific from the Red Sea south to Natal, South Africa and east from southern Japan south to Indonesia, Philippines and Samoa. They can be found at water depths from 2–50 m (7–165 ft). These triggerfish can grow to a maximum length of 60 cm (23 in). They are marketed either fresh or dried for food, but are potentially dangerous in some areas due to ciguatera poisoning.
Ad blocker interference detected!
Wikia is a free-to-use site that makes money from advertising. We have a modified experience for viewers using ad blockers

Wikia is not accessible if you've made further modifications. Remove the custom ad blocker rule(s) and the page will load as expected.